August 21, 2014, lasted three days of MOFAN "Secret Garden" 2015 spring new conference ended successfully, many domestic and foreign fashion, media elite, franchisee , agents, distributors, industry colleagues are gathered together Participate in witnessing the event.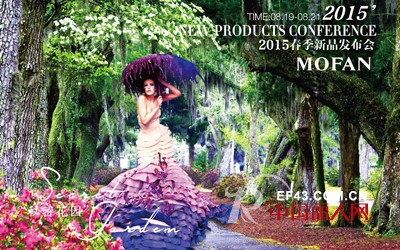 MOFAN2015 spring new design Frances Burnett's classic book - "Secret Garden" as a source of inspiration to the pursuit of modern women's romantic elegance as the point, is divided into "sweet city, elegant court, gorgeous courtyard" three series.

Among them, the series of "sweet metropolis" take the European metropolis as the main creative point. In the imprint of the era precipitation, the interlacing beauty of the geometric architecture of European architecture is extracted, showing neat tailoring and perfect lines, and the romantic elements are fully integrated into the contours Shape.

In the "Elegant Court Series" is the European Court of the classic European grace and elegance, retro elements and modern fashion sense of reciprocity, the ultimate highlight of the elegance of the elegant grace of women.

The "magnificent courtyard" will lead you into the magnificent royal garden after the flower, stroking the exquisite printed handicraft fabrics, enjoy the delicate beads flower embellishment of a single product, you can feel MOFAN2015 spring new Romantic, elegant fashion.

From the city full of structural shapes to the palace covered with veils and sculptures, and then into the fragrant backyard garden, the magic charm of the MOFAN Secret Garden is vividly presented both in the new and the sensory experience.
At the same time, MOFAN combined with the customer response to the terminal market and spring wear appeal, in the new design, also developed a custom festivals, go out, appointments and other needs to meet a variety of occasions with a single product line, and truly achieve zero distance fashion.

Currently, MOFAN has stores in China's first and second tier cities across the mainstream fashion department stores and Shopping Mall, invites entrepreneurship and ideals and recognition of MOFAN culture of national customers joined MOFAN.

Service Hotline:

Brand official website:

Polyester coated welding tarps no wax coating, no strong smell, highly waterproof. The fabric is more stable and not easy to shrink. The tear resistance is more than 2 times that of cotton canvas tarpaulins. Polyester Canvas is great for carport canopy, duck patio tarps and equipment tarps. The utility model can be used as an open storage stowage covering for the harbour and airport at the station. Temporary Tents can be built and crops can be used in the open air covering. Temporary sheds and temporary warehouses it also can be used for various construction sites such as the construction site electric power construction site.

Large Canvas Tarp,Outdoor Canvas Tarps,Polyester Canvas Tarps,Heavy Duty Canvas Tarps

Shandong Lufan Technical Textiles Co.,LTD , https://www.lufan-tarps.com
April 11, 2021