Shanghai, China, August 27th, 2012 As a classic American brand that encourages uniqueness, freedom and enthusiasm, Gap launched its "Gap Let Us Together" advertising campaign to celebrate Chinese and American culture when it first landed on China in 2010. The integration of the avant-garde characters in the field of performing arts, photography, art, music, etc. has been invited to participate in the shooting.

After arousing enthusiastic response in the city in two years, recently launched the latest advertising campaign, and still held by the legendary female photographer Annie Leibovitz in the fashion world. Apart from inviting Wu Yanzu to socialize with the founder of Biz Stone as a social networking expert, Gap also creatively enabled ordinary girls from both China and the United States to play the leading role, giving this large piece of meaning to explore. This new season of advertising has been fully launched in China and Hong Kong.

"We hope that after everyone sees this group of movies, they will begin to cast doubts. Whether it is for Wu Yanzu and Biz Stone how to change the way people communicate and communicate through multiple social networking platforms; or why Gap has turned regular girls into large films. The protagonist, and what is the special significance behind this idea? We hope that curiosity will drive more discussion and create more interesting topics related to this blockbuster." Grace Wong, chief marketing officer of Gap China, said with excitement.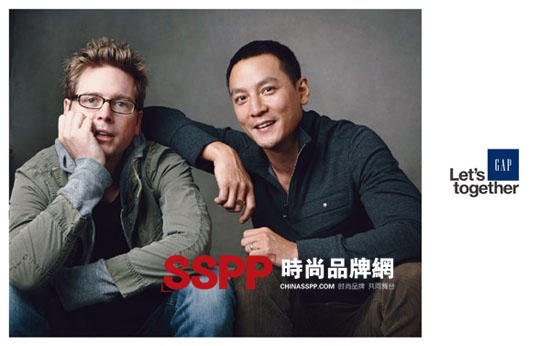 "Gap lets us be together" Advertising big piece Wu Yanzu handsome appearance

As an entertainer, Daniel Wu is not only an outstanding actor and director. He has created a platform for online music, film, and creative industries that has made him a pioneer in the field of social networking; his partner in this blockbuster, Biz Stone, Through the Twitter platform it created, it has completely changed the way of global communication. The two ordinary girls from different cultural backgrounds, despite language barriers, do not affect their friendship and happiness. Their innocence and happiness are just like the ordinary children around me and represent the hope of the future.
Yan Zzu x Biz Stone, social network pioneer "Let's Gap Together" is a collision between Eastern and Western cultures for me. I think what Gap wants to express is that in addition to trying to understand before integrating into a new culture, through mutual commonality Can create a closer relationship. I think 'Gap lets us be together' is a very cool and cool idea." by Wu Yanzu "For me, 'Let's GAP Together' made people realize that they are not just a country. Or a member of a state, but it should be part of the entire world." by Biz Stone


Satchel, as the name suggests, is a bag that can be slanted back. Bags are no longer the exclusive right of women. Bags have become one of the personal belongings of men going out, especially the sloping bag, which is not only convenient but also generous. The structure design of the satchel determines the practical, durable and comfortable performance of the bag.

Vintage Crossbody Bags,Women Crossbody Bags,Leather Crossbody Bags,Student Crossbody Bags

Ningxia Sunnymall International Trading Co., Ltd. , https://www.momcn-handmade.com
November 14, 2019